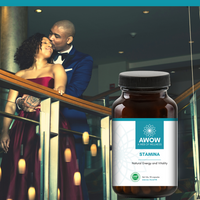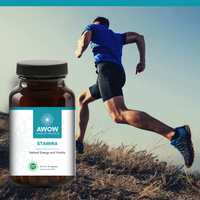 Stamina: Energy and Vitality
Description
Ayurvedic practitioners commonly use various blends of herbs and spices to support and maintain the body's natural energy levels. These ingredients have elevated energy-boosting effects when combined. They also pacify Vata and Pitta doshas for overall health.
Benefits & Features
Energy Booster Capsules contain a diverse blend of Ayurvedic herbs and spices that help maintain optimal energy levels, natural strength, and vitality
It nourishes and calms the nervous system for its healthy functioning
It promotes a healthy immune response against occasional external stressors
It revitalizes the body and mind, promotes optimal health and an active lifestyle
It nourishes and boosts adrenal health
Suggested Use
Take 1-2 teaspoons once or twice daily with water, or as directed by your healthcare practitioner
Ingredients - Nutmeg fruit (Jatiphala) Myristica fragrans+, Amla fruit (Amalaki ) Emblica officinalis+, Veld grape stem (Ashthisanghar) Cissus quadrangularis+, Alligator Yam root (Vidarikanda) Ipomoea digitata+, Musli root (Safed Musli) Chlorophytum arundinaceum+, Red hogweed root (Punarnava) Boerhaavia diffusa+, Black asphaltum (Shilajit), Winter Cherry root (Ashwagandha) Withania somnifera+, Velvet Bean seed (Kapikacchu) Mucuna pruriens+, Heart-leaved Moonseed stem (Guduchi) Tinospora cordifolia+.
+Certified Organic Ingredients
This item is gluten-free, soy-free, yeast-free, dairy-free, GMO-free, and preservative-free. It contains no animal by-products and is suitable for vegetarians and vegans. Manufactured in a facility that processes tree nuts. It is also a third-party laboratory tested for purity from heavy-metal levels.