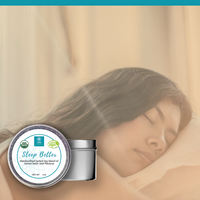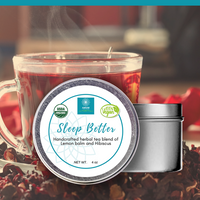 "Sleep Better" Herbal Tea
Description
Refreshing and restorative sleep is essential for optimal health and wellness; however, stress/life sometimes prevents a good night's sleep. Sleep Better Herbal Tea Blend from AWOW features a blend of 100% organic herbs, including lemon balm and hibiscus.
Our tea encourages healthy sleep patterns and leaves you feeling refreshed upon waking.
Directions: Place one teaspoon of tea into a tea bag or strainer and steep for 15-25 minutes to taste! Enjoy!
**Pregnant women should avoid hibiscus as it may induce premature labor.**
Note that because hibiscus is often intercropped with peanuts, people with severe peanut allergies may have a reaction to hibiscus.
*Disclaimer: All AWOW herbal blend teas are handmade in a private kitchen and have not been evaluated by the FDA. Nutritional and usage information is for educational use only - not intended to represent or replace the advice of a medical professional or physician. Please consult your doctor or healthcare provider for any possible contraindications and/or interactions with current medications. Always inform your healthcare provider(s) if you are taking any herbal remedies or supplements.