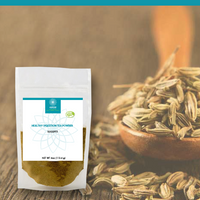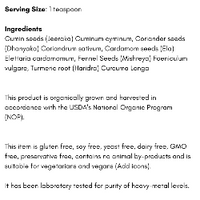 Healthy Digestion Tea (CCCFT)
Description
AWOW CCCFT is a blend of five healthy herbs and spices: cumin, coriander, cardamom, fennel, and turmeric. These ingredients combine to create a strong and potent supplement for healthy digestion.
It helps bowel function and aids normal peristalsis, naturally. CCCFT assists the metabolism and keeps the digestive fire going even during cold weather. It supports the elimination of water-logged tissues and helps them restore their tone.
This ayurvedic supplement has soothing properties that may help with soothing occasional inflammation. CCCFT can also help with breaking down the ama in the body.
Ingredients - Cumin seeds (Jeeraka) Cuminum cyminum, Coriander seeds (Dhanyaka) Coriandrum sativum, Cardamom seeds (Ela) Elettaria cardamomum, Fennel Seeds (Mishreya) Foeniculum vulgare, Turmeric root (Haridra) Curcuma Longa
This item is gluten free, soy free, yeast free, dairy free, GMO free, and preservative free. It contains no animal by-products and is suitable for vegetarians and vegans. It is also a third-party laboratory tested for purity of heavy-metal levels.